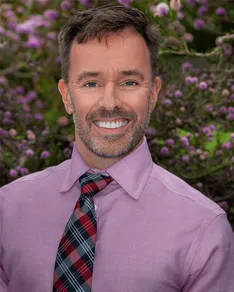 Dr. Aaron E. Rose D.M.D.
Dr. Rose received his doctorate of dental medicine degree at Tufts University in Boston., Massachusetts. He continued his dental education at the University of Pacific, here in San Francisco, and received a certificate in Advanced Education in General Dentistry. He was also the recipient of the A.E.G.D. award for the most exemplary first-year resident. Dr. Rose is the proud recipient of THE BEST DENTIST IN SAN FRANCISCO readers poll award from SF Weekly, two years running.
Dr. Rose is proficiently trained in all facets of dentistry including treatment for children, adults, and elderly patients. Comfortable filling placement and root canal therapy, as well as gentle tooth removal, dental implants, dentures, fixed and removable bridges, and periodontal (gum) treatment, are within Dr. Rose's treatment scope. He particularly enjoys cosmetic dentistry including porcelain veneers, tooth colored fillings, and tooth whitening.
Prior to his dental education, Dr. Rose received his Bachelor of Science degree from York University (in Toronto, Ontario, Canada) in Psychology. He has incorporated this previous training into his practice by putting an emphasis on Alleviating Dental Fear.
Dr. Rose enjoys a wide range of activities including skiing, sailing, and music (he plays several different instruments). He is also fluent in Hebrew and speaks some French.
We are sure you will share our enthusiasm for Aaron when you get a chance to meet him. His energy and upbeat personality go hand-in-hand with his commitment to providing excellent dental treatment.
Contact Dr. Rose via email at [email protected]